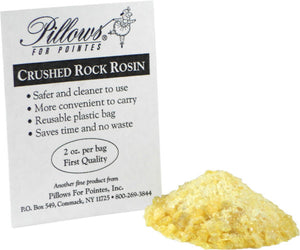 POCKET SIZE ROSIN
A pocket size plastic bag of crushed, yellow rosin.
For use on external platform of pointe shoes to increase friction. Refined yellow gum rosin. Crushed for easy use. Eliminates waste. Convenient zip lock reusable bag. Use only as instructed.
Size: Two ounces per bag
Packaging: Zip lock plastic bag inside a larger reusable plastic bag with a descriptive card and product
use instructions.