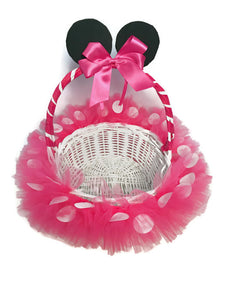 Minnie Inspired Pink Polka Dot Tutu Basket
Minnie Inspired Pink Polka Dot Tutu Basket
This pink Minnie  inspired tutu Easter basket is the perfect piece to add to your little ones Easter.  A white wicket basket adorned with a soft exquisite tutu made from American made tulle.  Lush and full, this tutu basket will simple amaze you.
Basket opening is 12 inches in diameter with a 10 1/2 inch tall handle. The handle is enhanced with a hot pink glitter ribbon and black ears. The tutu is American Beauty pink  with white polka dots.
Treat your little one to a tutu basket today.
Basket can be used for holidays or to hold hair ties, ribbons and bows.
Tutu baskets are the perfect gift for:
dancers
dance recitals
baby showers
flower girls
weddings
First Holy Communion
Birthday Parties and so much more!