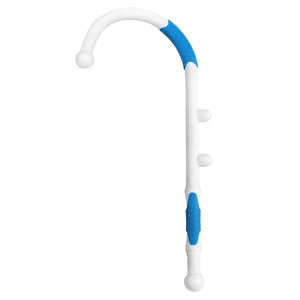 MINI KNOT BAD MASSAGE CANE
The ProStretch Mini Knot Bad massage cane features four massage knobs and a comfortable grip that makes self-massage easy. The massage knobs on the shaft are ideal for releasing myofascial trigger points and a deep tissue massage.
Ergonomic Design  
Designed with portability in mind, the Mini Knot Bad massage cane hook shape allows you to reach even the hardest-to-reach areas of your back, neck, and shoulders. It tackles those stubborn knots that won't go away. 

Relieves Muscle Knots & Trigger Points 
The Mini Knot Bad massage cane knobs include rounded therapy nodes for targeting knotted muscles and pressure points.
Ultra-Light & Portable
Its dense-flexible plastic is easy to move with your body and transport for people on the go.